Dear Customers, Friends and Fans,
Great News!!! Kplayground 2010 End of Year Holiday SPECIAL is NOW ON !
LET THE Christmas Shopping BEGIN!!!
Great time to grab GIFTS for yourself and for those you love at a HUGH Discount! SALE runs from November 17 to November 30, 2010!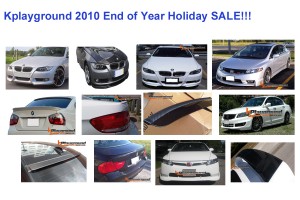 To take advantage of this SALE:  **Come Join Our Facebook Community for Full Details. *** http://www.facebook.com/Kplayground.BodyKit.TrackEvents
E90/E92 body kits includes: M3 style spoiler, OEM style front lip, CSL CF Lid Spoiler, H style front lip for E92 pre lci model,Matt black grill (abs),ACS Trunk Spoiler available in FRP or CF, Roof Spoiler FRP or CF and much more.
8th Civic/CSX /8th Accord body kits includes: 09 Mugen style front lip/ Mugen RR Full Front Conversion/Mugen RR Style Front Bumper with Grill and Foglights/ Mugen RR Style Rear Lip with 43 LED Brake Light Pad/ Mugen Si Style Front Lip/ Mugen Style Window Visors/ JDM Style Depo Headlights/ JDM Style Eyelids, TR/MU front lip, 8th Accord Modulo style full body kit, 8th Accord CF Vinyl Window Visors and much more.
Best Regards,
Kplayground Team

Join our Facebook Community- get up to date products' information before anyone else, and write on our wall!
Follow Kplayground on Twitter! Tweet us!